It all starts with establishing core marketing strategies. Followed by defining target segments, identifying customer personas and understanding competitive positioning. The strategies must be supported with measurable metrics to benchmark performance. A proven recipe for product and campaign success.

Hotels and resorts operate in a complex, global and highly fragmented market. Effectively managing rates, inventory and content across GDS, OTA, direct interfaces, channel managers and a website CMS requires planning and efficient operational processes. Only then can efficient revenue management strategies must be executed to maximize profitability.

Travelers, hoteliers and travel sellers are all adopting new technologies. A critical challenge is integrating new tools with CRS, PMS, RMS and CRM systems. Updating reservation systems, revenue management or mobile platforms requires analysis based on guest needs and operational management capabilities.

Highly engaged guests represent the difference between a beautiful hotel and a successful hotel business. Hotel industry leadership must focus efforts on creating value for travelers. With the growth of big data and social media, businesses can cost effectively communicate with travelers in more authentic, transparent and relevant ways.
Recent Engagements


Web Site Redevelopment and Booking Engine Integration


Two White Papers on Semantic Search & Hotel Distribution


Website Development / SEO / Salesforce Automation / Email & Telephony Integration


Travel Start-up
Business Strategy, Product Formulation and Market Sizing


Global Hotel Group
Dynamic Packaging Initiative
Views from a Corner Suite
November 18, 2013 By Robert Cole Leave a Comment
Each year, the PhoCusWright Travel Innovation Summit amasses thirty contestants, each with an opportunity to spend 11 1/2 minutes onstage and pitch their product to an audience of travel industry … [Read More...]
Featured Presentation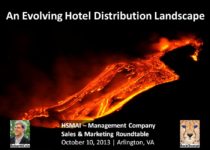 A presentation discussing the changing hotel distribution landscape by Robert Cole of RockCheetah. The briefing was designed to address emerging trends impacting revenue management. The audience was the Hospitality Sales & Marketing Association International's hotel management company sales & marketing executive roundtable held Thursday, October 10, 2013 at the Crowne Plaza Washington National Airport in Arlington, Virginia,
Travel Quote of the Day
December 13, 2013
"Imagine that you are stuck on a long train ride and must choose one of two books to read in order to pass the time: the first is a novel whose main character is an office worker who is essentially working to pay his monthly cable bill; the second is about someone who decides to […]
December 12, 2013
"Travel far enough, you meet yourself" – David Mitchell
December 11, 2013
"In some peculiar way, indeed, the rules were now beginning to seem quite logical. It was then I knew that I had been in India long enough" – Tahir Shah
RockCheetah – Solid Strategy • Fast Execution